Музыкальный сборник термоядерной музыки жанров dark electro, aggrotech, harsh, EBM. Сборник в двух частях, 40 треков в совокупности. MG musical compilation: aggrotech/dark electro music in 2 parts, summary 40 songs.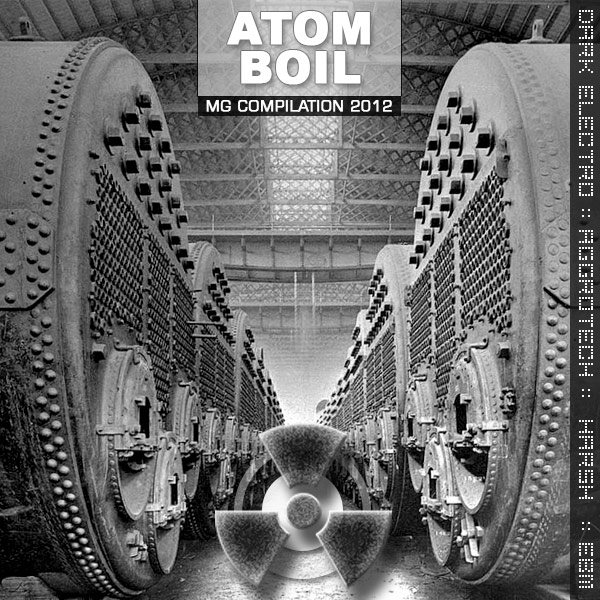 ATOM BOIL: ©MG, 2012 Various Artists compilation by MG 29.09.2012
Listen mixed samples:
Авторская рекомендация:
Ограничение материала по возрасту: 18 лет. Психоактивная музыка, будьте осторожны.
A
————————————————–
COMBICHRIST – Can't Change The Beat
NOISUF-X – Please Hang Up [Mobile Interferrence]
PHOSGORE – Noise Preacher
NOISUF-X – Deutschland Braucht Bewegung
THE RETROSIC – Dragonfire
SOLITARY EXPERIMENTS – Delight
NOISUF-X – Excessive Exposure
PHOSGORE – Glasgow Smiling
PHOSGORE – Destruktor
LIQUID DIVINE – Technocracy (Tom Wax Remix)
SANTA HATES YOU – God is hiding under my bed
XMH – Dictate
:WUMPSCUT: – The March Of The Dead
COMBICHRIST – Prince Of E-ville
VALIUM ERA – Sleep Well
WYNARDTAGE – Slow The Tide
SUICIDE COMMANDO – One Nation Under God (:Wumpscut: Mix)
WYNARDTAGE – White Frost (Chadouze Airplay Mix)
THE RETROSIC – Untitled
CENTHRON – Dreckstuck
B
————————————————–
SUICIDE COMMANDO – See You In Hell
:WUMPSCUT: – Praise Your Fears
HOCICO – Bizarre Words
LIQUID DIVINE – Satellites (Fluffy 80's Mix)
VELVET ACID CHRIST – Disconnected Nightmare
COMBICHRIST – Spit
[X]-RX – The Doll Underground
PHOSGORE – Detonate Devastate Annihilate
[X]-RX – Das Ewige Leben
NOISUF-X – I Am Watching You
PHOSGORE – Club Domination
VELVET ACID CHRIST – Ghost Regen
SOLITARY EXPERIMENTS – Rise And Fall
SANTA HATES YOU – Rocket Heart
HOCICO – Love Posing As A Prostitute
VALIUM ERA – Beep You
XMH – Tears in Rain
REAPER – X-Junkie [Shnarph Remix]
HEIMA][AERDE – Die Buerde
SOLITARY EXPERIMENTS – Worst Case Scenario
Все авторские права на музыку принадлежат правообладателям. Данный сборник, составленный мной в сентябре-октябре 2012 г., не может продаваться в интернете или на физических носителях ни целиком, ни по частям ни при каких обстоятельствах. Пожалуйста, приобретайте легальные авторские носители с музыкой упомянутых выше авторов.
Похожие сборники
Извольте послушать другие электронные сборники, их есть у меня, правда, настроение их чуть более светлое. Authecre: Run Chronotrony (2000), Anne Clark: Remain Forever (2011), Apoptygma Berzerk: Deep Red (2012), Apoptygma Berzerk: BeetBOX (2012), Deutsch Astroneut (2002), SAT (2005).